Personalised Tool Motif Hanging Slate Shed, Workshop or Garage Sign - 25x10cm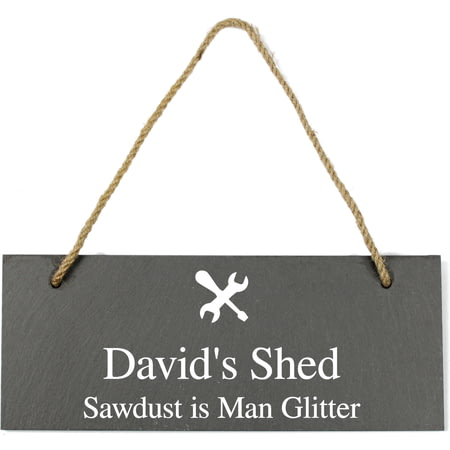 Description
Personalise this Tool Motif Slate Sign with one line of 25 characters which will be in bold, and one line of 40 characters for a longer message.
Above the personalisation is a tools motif.
The slate plaque has a piece of natural, rustic string which enables this item to be hung up.
PLEASE NOTE- Each slate piece will be unique as the item is cut by hand.
Due to the nature of slate there will be some differences in the stone (such as texture, cut and smoothness).
This may result in natural faults in the surface and edges of the product including flaking and uneven corners.
Each item contains speckles of fools gold which makes a stunning feature and adds to the rustic feel however it may be at times within the area of your personalisation.
Ideal for New Home Presents, Fathers Day, Christmas.
Size
| Width | Height | Depth |
| --- | --- | --- |
| 25cm | 9.5cm | 0.6cm |
| 9 20/24in | 3 3/4in | 11/48in |
In Stock, Dispatched in 1-2 days + delivery.
---
Other items you may be interested in